If you need someone to pray with, call: 1-877-7-LETSPRAY or +1-859-777-PRAY. You Don't Have to Pray Alone!
Top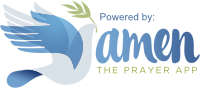 Log In
to enable notifications
Don't forget to check the appropriate box(es) if you'd like to allow others to send a note of encouragement to you, or to be notified when someone prays for your request. Please avoid writing in ALL CAPS. If you are requesting prayer for a specific individual, please share only their first name. After you click 'SUBMIT,' please take a moment to look at someone else's request and click on the 'PRAY' tab to indicated that you're praying for them too.
Submit
Cancel