Top
Mar 17, 2017
Happy Birthday to my father turning 85 on the 20th. He has been a rock in our family.
He taught me to love unconditionally and to pray and study God's Word! Praise God for his faithfulness!
Mar 17, 2017
Our small group has just finished going through the DVD series called "The Circle Maker" by Mark Batterson. It is a study about prayer (and it is amazing!). I sense God doing a great work in the hearts of these women and want to praise Him for the work that only He can do to encourage and excite us to pray and fast to see His glory.
Feb 27, 2017
Let the heavens rejoice and let the earth be glad. Psalm 96:11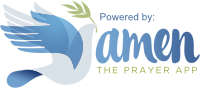 Please share your prayer need here. After you hit "Submit a Prayer", your request will be viewable for the next two weeks as people click on the "PrayerWorks" icon on the KJLY web site. Our KJLY Prayerline ministry volunteers and other visitors to the web site will be joining you in prayer! God bless you!
Submit
Cancel