Top
May 9, 2017
Born today Willow Wayne Wight
After a high risk pregnancy she is healthy baby girl. Praise the Lord.
Apr 21, 2017
I believe in the power of prayer! I praise God for all the prayer warriors who have been praying for my family, church, River Valley area, and me. Your prayers are really being heard and I want to encourage you please don't stop.
1. My son Nathan's attitude/heart has dramatically changed. We are actually able to have meaningful discussions.
2. People are getting saved! A guy named Lou who has been homeless and been involved with the Occult came to Jesus! Praise God.
3. God is opening doors in the River Valley area and Pastors are beginning to more actively work together.
4. God opened doors for me to pray with State of Maine Senators and Representatives at the State Capitol every Thursday!
5. More importantly God is changing my life and giving me a greater heart for souls and changed lives.
I will be posting more prayer requests as God is moving and I need Him more than ever! Praise God and thank you again!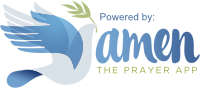 Please share your prayer need here. After you hit "Submit a Prayer", your request will be viewable for the next two weeks as people click on the "PrayerWorks" icon on the KJLY web site. Our KJLY Prayerline ministry volunteers and other visitors to the web site will be joining you in prayer! God bless you!
Submit
Cancel