Thanks for visiting! If you have prayer requests, we'd love to pray for you. Here, you can post your prayer concerns and needs anonymously. Even better, you'll receive a notification every time someone prays for you if you provide your email address or mobile number when you register. And, let us know how your prayers were answered through the Praise section of the app! Lastly, "Amen: The Prayer App" is available as a free download from the App Store.
Top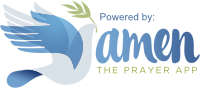 Log In
to enable notifications
Here's some things to remember about this app. First, it's a public forum. We really want to maintain your privacy. Please help us do that by leaving out of your posts any personally identifiable information, including URLs and email addresses. We'll monitor the site and remove any comments we find inappropriate, such as personal attacks, promotional offers, solicitations, or suggestive or profane language. Thanks for joining us in prayer!
Submit
Cancel